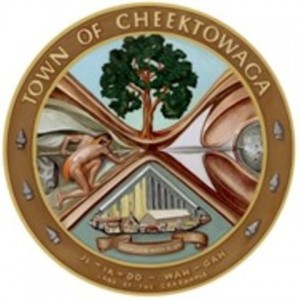 3223 Union Road
Cheektowaga, NY 14227
TELEPHONE NUMBERS:
Cheektowaga Court Administrator: (716) 686-3462
Judge Kolbert's Clerk: (716) 686-3919
Judge Delano's Clerk: (716) 686-3437
Small Claims & Civil Matters: (716) 686-3459
Certificated of Disposition: (716) 686-3918
Criminal Court Fax: (716) 686-3553
Traffic Court Fax: (716) 686-3585
Security Office
Phone: (716) 686-3912
Fax: (716) 686-3585
Court Officer Supervisor: Richard Kozell
http://www.tocny.org/Departments/Court.aspx
Town Justices:
Dennis A. Delano
Paul Piotrowski
Town Prosecutors:
Melissa Reese Esq.
Kathleen McDonald Esq.
District Attorney:
As assigned by the Erie County District Attorney Justice Court Bureau.
Court Administrator:
Stephanie Lewandowski
Court Schedule:
Criminal Court: Monday-Friday 8:30am-4pm (excluding holidays)
Traffic Court: Monday-Friday 9am-4pm (excluding holidays)
Parking Tags: Monday-Friday 9am-4pm (excluding holidays)
Court Information
For information about the Cheektowaga Town Court Bail Office, please click here.
For information about accessing Cheektowaga Town Court Records, please click here.
For information about Jury Trials in the Cheektowaga Town Court, please click here.
For information about Parking Tags in the Town of Cheektowaga, please click here.
For information about Small Claims Court in the Town of Cheektowaga, please click here.
For information about resolving Traffic Tickets in the Town of Cheektowaga, please click here.
For information about Getting Married by a Cheektowaga Town Justice, please click here.
Tips:
All people entering the building are now screened by Court security personnel using a metal detector, similar to an airport.  No cell phone use is allowed in the building.
The Cheektowaga Town Court is now located in a new courthouse building adjoining the old police station and courthouse, which themselves are under reconstruction. Entrance to the new facility is located on Union Road slightly south of the prior driveway. Although parking has been expanded, the heavy volume in this court continues to make the immediate area feel congested. Construction continues, so exercise caution.
In recent years the scheduling of trials and hearings has become far more precise, but most new matters continue to be scheduled for a starting time of 8:30 AM. Cases which involve only a traffic infraction are sometimes scheduled in the early evening.
Map:
You may not know:
Cheektowaga is a town in Erie County, New York, United States. As of the 2010 census, the town had a total population of 88,226. The name comes from the Iroquoian word Ji-ik-do-wa-gah, meaning the place of the crab apple tree. The Town of Cheektowaga is in the north-central part of the county. It is the second largest suburb of Buffalo, New York next to Amherst. Cheektowaga CDP and Cheektowaga Town contain the site of the Buffalo Niagara International Airport, the principal airport of Erie County.
Villa Maria College and the Walden Galleria are located in Cheektowaga.
"Land of the Crabapples" ( JI-IK-DO-WAH-GAH ), named by the Seneca Native Americans referring to the apple-like fruit of the Hawthorn trees abundantly growing in the area. Cheektowaga was formed from Amherst on March 20, 1829, and on the formation of West Seneca on October 16, 1851, was reduced to its present limits—about 33 square miles (85 km2). Throughout the 19th century, it went by its original name: "Chictawauga".
Originally a rural farming area, the town was extensively developed during the post-World War II subdivision boom of the 1950s. Factories, such as the Westinghouse Electric Corporation plant on Genesee Street (since demolished) generated employment to the area for many decades. The town continues to maintain a strong blue collar presence. Cheektowaga has a large Polish-American community, much of which relocated from Buffalo's East Side, and about 39.9% of population is of Polish heritage.
In the town there is a complex called the Garden Village Plaza. At one time this was a thriving complex full of retailers but by 2006 this had dwindled down to a few outlets including the Village Flea Market, a Dollar General and T-Birds nightclub. At this time the plaza was acquired by Benderson Development Co for about $2 million from New York City investor Howard Drucker, who had originally asked for $5 million. This deal gained media attention and Benderson vowed to give the location a revamp. However, since that time even more of the businesses have closed and most of the buildings are now derelict. Further talks to develop the site took place in 2010 and 2011.
Other small plazas and malls like Como Mall and Thruway Mall were closed and turned into smaller business plazas with the growing popularity of large shopping malls. The Walden Galleria opened in 1989 in Cheektowaga, the largest mall in the Buffalo Niagara region.
On July 31, 1987, an F1 tornado touched down in the Union Road and George Urban Boulevard area. It grew to an F2 before dissipating. Homes and business suffered serious damage, but there were no fatalities or severe injuries. This tornado is locally memorable as the one which ripped the roof off the Holiday Showcase Restaurant.
Another F1 tornado touched down not far from the site of the 1987 tornado on June 30, 2006. Again, homes and businesses – including the Holiday Showcase, which was remodeled soon after – were damaged, and a tractor trailer was knocked over on the NY State Thruway, but no one was killed.
According to the United States Census Bureau, the town has a total area of 29.5 square miles (76.5 km²), all land.
The town borders Lancaster on the east, West Seneca on the south, the city of Buffalo on the west, and on the north by Amherst. The town includes the waterways of Scajaquada Creek, Cayuga Creek and Ellicott Creek.
The east town line is marked by New York State Route 78 (Transit Road). New York State Route 240 (Harlem Road) and New York State Route 277 (Union Road) are major north-south routes through the town. New York State Route 33 (Kensington Expressway), Walden Avenue, and William Street access the New York State Thruway, which is also a north-south highway through the town (although officially an east-west road, it travels north-south in the Cheektowaga section).
Garrison Cemetery, Our Lady Help of Christians Chapel, and Villa Maria Motherhouse Complex are listed on the National Register of Historic Places.
As of the census of 2000, there were 94,019 people, 40,045 households, and 25,869 families residing in the town. The population density was 3,183.8 people per square mile (1,229.3/km²). There were 41,901 housing units at an average density of 1,418.9 per square mile (547.9/km²). The racial makeup of the town was 94.94% White, 2.93% Black or African American, 0.16% Native American, 0.94% Asian, 0.01% Pacific Islander, 0.27% from other races, and 0.75% from two or more races. Hispanic or Latino of any race were 0.97% of the population.
There were 40,045 households out of which 25.5% had children under the age of 18 living with them, 49.5% were married couples living together, 11.4% had a female householder with no husband present, and 35.4% were non-families. 30.4% of all households were made up of individuals and 15.5% had someone living alone who was 65 years of age or older. The average household size was 2.32 and the average family size was 2.91.
In the town the population was spread out with 20.6% under the age of 18, 7.1% from 18 to 24, 28.6% from 25 to 44, 23.2% from 45 to 64, and 20.5% who were 65 years of age or older. The median age was 41 years. For every 100 females there were 88.4 males. For every 100 females age 18 and over, there were 84.6 males.
Communities and locations in Cheektowaga
     Bellevue – A neighborhood in between Union Road and the Depew Border. Home to the Bellevue Fire Department and a portion of the Cayuga Creek. Also home to the historic  "Bellevue Hotel", a local bar and restaurant which has been in existence since the 19th century.
     Cheektowaga – A cdp within the town.
    Cleveland Hill – A neighborhood located on the north town line, this community has its own school district.
    Depew – The Village of Depew (shared with the Town of Lancaster) is in the eastern part of the town.
    Doyle – A neighborhood near the western town line.
    Forks – A location near Union Road (NY-277) and Broadway (NY-130).
    Maryvale – A neighborhood located just west of the airport, this community is also a school district, containing Maryvale High School.
    Pine Hill – A neighborhood on the border of Buffalo, the community features many cemeteries and Villa Maria College.
    Reinstein Woods Nature Preserve – A conservation area in the south central part of the town.
    Sloan – The Village of Sloan, near the Buffalo border. Sloan has its own school district.
    South Cheektowaga – Neighborhood on the border of West Seneca border near French Road. Several apartment complexes are located in this area.
    U-Crest – A neighborhood near Union Road (NY-277) and Genesee Street (NY-33).
    Williamsville – A small part of the Village of Williamsville (shared with the Town of Amherst).
The median income for a household in the town was $38,121, and the median income for a family was $46,646. Males had a median income of $34,538 versus $25,434 for females. The per capita income for the town was $19,627. About 4.6% of families and 6.5% of the population were below the poverty line, including 8.7% of those under age 18 and 6.4% of those age 65 or over.
Ancestries: Polish (39.9%), German (29.9%), Italian (16.0%), Irish (14.1%), English (5.8%), French (2.7%)